Dear all,
I hope you've been well.
I am a Master student from Indonesia, and very new at using this HYDRUS software. I've been trying to model root water uptake, water flow and solute transport with wetland (CW2D). There are quite a few questions regarding the result I obtained.
1. As attached, I saw that there is a jump in the outlet part for pollutants, while the only input is from the upside of the wetland. I am not sure how it happened and would like to know if I had done something wrong in the model.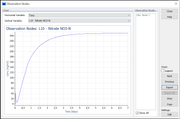 This is from the observation point I made in the outlet.
This is from the simulation animation. It happened very briefly, only for 0.05 days and it was gone by 0.075 days. The concentration also goes in the opposite direction of my assigned outlet. I made the outlet on the lower right corner of my model, while the pollutants moved to the other side. I wonder if I had done something wrong in the simulation.
2. Regarding the root water uptake, I noticed that when I run the simulation, the result is a bit different from the files examples in the program, whereas the root water uptake doesn't change over time, while mine changes over time.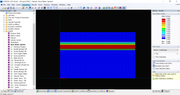 This is the initial condition, with the root 20 cm deep into the soil.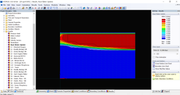 This is by the time of 0.3 days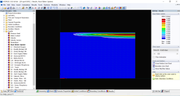 This is by the time of 0.625 days, and it ceases to zero by the time of 0.675 days. Does this mean the root uptake has reached maximum capacity since it ceases to zero, and all the solutes are moving with the water?
That would be all my questions for now, as I'll be trying to figure them out again. I hope my question is not too shallow.
Thank you in advance for your assistance.
Sincerely,
Nadia